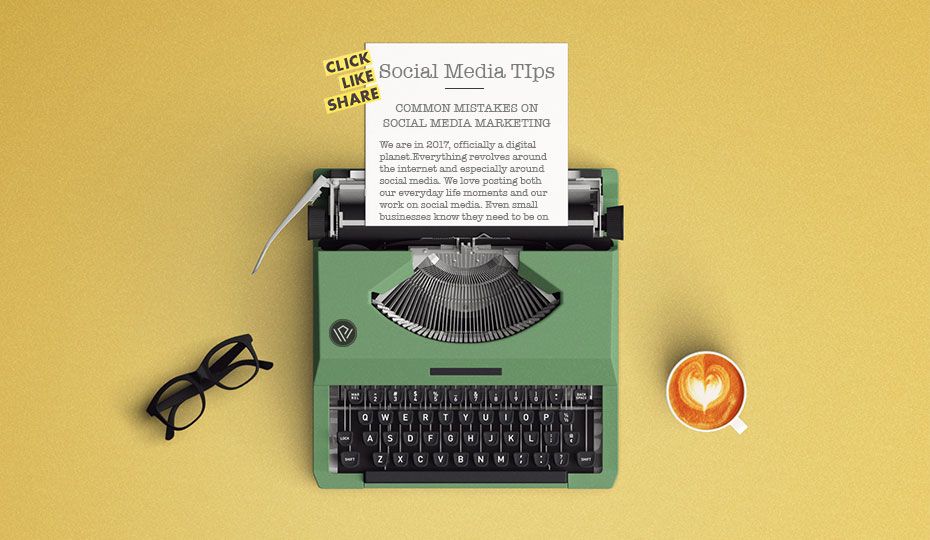 We are in 2017, officially a digital planet.
Everything revolves around the internet and especially around social media. We love posting both our everyday life moments and our work on social media. Even small businesses know they need to be on social planet, but marketing your business takes time and effort. It's not only advertising, but getting connected with people, listening when they are happy or disappointed. Even if you get a complaint it's fine, because you can turn it into a positive experience and make a good impression, by talking to a disappointed person in public, and charming them back into your business.
So if your business isn't on social media already, sign up and have fun.
Just try to avoid some common mistakes.
You don't follow other accounts
Remember!Social media is not only advertising services and products, it's not a one-way communication but a lasting relationship with customers. As soon as you've got your account ready, find 20-40 accounts to follow and start interacting with them. Like, comment or even re-share something interesting and funny –be a part of their community! You can also comment on some posts in order to be more visible. Make them feel special that you know them, like them and entice them into following your account. So don't be that business that doesn't follow anyone.
You're using a personal account as a business account
That's a big mistake! First of all, it makes your business look unprofessional and also it's not a good idea to share personal moments and photos to a business account.Think about it! Your personal account has to be separate from your business account! Besides, separating your accounts is easy and free.In 2017 only 37% of small businesses said they use designated business social media accounts to reach their audiences, which means that 63% of them – nearly two out of three – are blending personal and business accounts.
You don't respond to customers messages on social media
Your customers expect you to respond to their messages on social media in a timely manner; it's a part of a lasting relationship, as we said before, and if you don't, it makes a bad impression! So, all businesses have to care about customer service on social media platforms.
You don't offer any deals for your social media audience
Let's be honest, people follow their favorite companies on social media, because they want to participate in a contest, get a discount or get informed about new deals. It's a good idea to think about an offer as a way to build a good relationship and engage your audience. Occasionally, not every day…
Expect fast results
Social media takes time to grow. You try every day for an engaging presence in order to increase your followers, but you have to be patient! You can't think of it like it is a one-time campaign.
So how long might it take to get results? Let's say at least three months of intensive effort; however, six months to a year would be even better.
You try to be everywhere
You have to be on social media, but it's not necessary to be everywhere, because your results will be mixed! By trying to be everywhere you actually not putting enough effort on any of the platforms…
So, choose 2-3 platforms that fit you better, invest on them, spend time on them and, after getting the results you want, choose to keep them or not.
All in all!
The big difference between old-school marketing and social media marketing is that social media are really fun!
Businesses have to understand that being in social media means engagement, comments, likes, responses to messages and interacting with their followers. Try to think like your customers, share what they care about, and you will get good results!
Always with WebFlow.gr